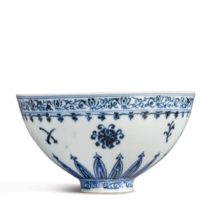 Who doesn't love a good yard sale? Any time I see a yard/garage sale I almost always make sure to stop by and give a quick peruse. I almost never buy anything but you never know if you don't check right?
And I think everyone has that fantasy about finding something really insane in a garage sale right? Like every hobby in the world probably has the same urban legend of a person who found something really valuable to them and bought it for dirt cheap from someone who didn't know what they had. This story is a dime a dozen in the Magic: The Gathering world. I think just because it's a hobby where the value of things is hard to guess without any additional knowledge and even then it's sometimes hard. But I've also heard of people finding baseball cards or pokemon, or rare collectables, or anything really.
So that's why I LOVE this story:
Last year at a yard sale a keen eyed collector purchased a small porcelain bowl for $35 American Dollars. After sending it off to an auction house for inspection, it was found that this bowl was an extremely rare and high quality bowl from the Ming dynasty! This bowl was from a historic period in China famous for it's pottery (sometime between 1403-1424) and has an expected value of $300-500 thousand dollars! Woah.
It's only one of seven bowls of its kind known to exist in the world.
Which raises the question… why was it sitting in a yard sale in the first place?
Read full story here: https://www.cnn.com/style/article/chinese-bowl-yard-sale-sothebys-auction/index.html