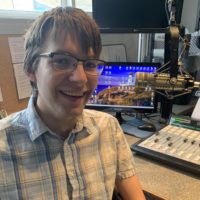 I think it's time I taught you a brand new word. I first learned of this word back when my family used to play Balderdash all the time. It's not the kind of word you see used very often, but it seems that almost every November, this word comes back into my mind. You see the definition of a whiskerino is "A facial hair growing contest." And well hey look at what we're doing here at the station… A mustache growing contest.
Speaking of which, if you haven't yet, please click here and visit our page to see how you can help us raise money for men's health. Personally I've wanted to be able to participate in one of these for years, but now that we're doing it… I miss my beard! I know it'll come back though, and we really are doing this for a fantastic cause, so I can't complain. This is the first time I've been totally bare-faced in over three years, so it's quite the experience. I hope my boyfriend doesn't prefer me looking like this!
To everyone else participating in the whiskerino, good luck. You'll need it if you think you're gonna grow a better stache than me!
~Donny
Huge thanks to our Movember partners through this event;
Peace Country Co-op
GN Carriers
Peace River Vision Clinic-Dr. Michael Hopper
Peace Valley Dental
Northern Lakes College