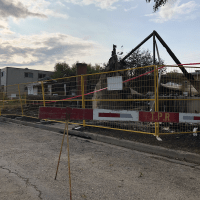 On the 3rd of July, 2019 at roughly 3 o'clock in the morning, fire crews were called in to reports of a fire on 98th Ave in Peace River.
Crews arrived in a timely manner, but it was too late to save the burning buildings. They was fully engulfed in flames. The buildings in question, the Seventh Day Adventist church, and the house right next to it.
Although I have no photos of the buildings on fire, I managed to run over to the church later on in the day. In contrast to the above photo, a screenshot taken from Google Maps, the church and building next to it are completely unrecognizable.
While at the scene just before 7pm the very evening after the fire, there was a member of Peace River's Fire Department still on scene watching the situation. He told me there were still some hot spots within the fire wreckage… at almost 7pm!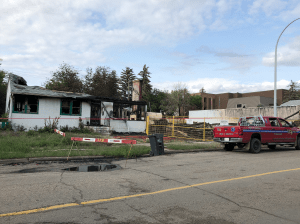 Needless to say, it's not the safest place to be. Thankfully though, residents of the house next door managed to escape.
At this time, the investigation is still ongoing.