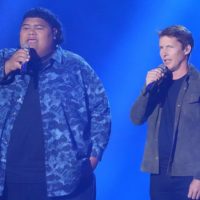 American Idol declared a winner this weekend and it was Iam Tongi. But before he was crowned Hawaiian-born singer performed an emotional duet during the finale with James Blunt as they sang Blunts song "Monsters."
Tongi was over taken with emotions performing the song as it sang about a father and son, with Tongi having lost his father. The 18 year old who resides currently in the state of Washington also used the song for his audition. For all the hate James Blunt gets online, something the British singer has embraced and gets a laugh at, it would be hard to find negative things about him with that performance helping the young singer get through the song.
It is a hard video to watch without tears coming to your eyes as you could see country singer Jelly Roll tearing up, even commenting on the YouTube video saying "Witnessing this in person was one of the most emotional things ever."
Tongi was able to become the first Hawaiian-born Pacific Islander to win the competition, beating out country singers in the process.
Watch the videos here but you will need tissues:
– Everett