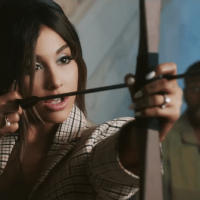 Ariana Grande has had a crazy busy couple of  years, especially with spitting out two albums in a 6 month time period and going on tour. Now (6 months after the release of her Thank U, Next album) she's released a new song with Social House. 'Boyfriend' is a low tempo jam with major 90's R&B vibes. They've also released a video to go along with the song, it bounces between being pretty simple and getting kinda weird…in true Ariana fashion.
I really feel like Ariana and I could be best friends.
Contains Adult Language.