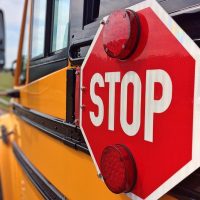 Now that the kids are back into the school routine – it's extremely important for drivers to be vigilant.
Let's keep kids safe throughout the school year.
This means being smart behind the wheel, not being in a rush, obeying all traffic laws, and being aware of your surroundings.
Below are some reminders to drivers:
When driving in neighbourhoods be mindful of children walking, running, cycling in and around the streets.  Be alert as soon as you are behind the wheel
Be mindful of all school zones.  The speed limit is 30 km/h from 8-9:30, 11:30-1:30, & 3-4:30 (unless otherwise posted)
Do not text and drive. Do not talk on a hand-held device and drive.
Always stop for school buses when lights are flashing (20 metres), and be mindful of children getting on and off the bus.
Be alert and aware of your blind spots, especially around schools.
Don't rush. Give yourself extra time in your morning commute to work. Especially early in the school year when routines may not be yet in place for kids arriving to school in a timely fashion.