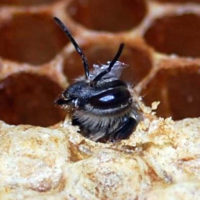 You've heard of the stone age, but have you heard of… the poop age? Researchers from the university of Guelph published a paper that suggests honey bees have learned to use poop to ward off murder hornets.
Genius!
Little known fact: this tactic also works for warding off humans from approaching your home. Just in case that no solicitor sign isn't doing the trick for you these days.
Anyway! Yes the team of researchers surveyed 72 beekeepers in Vietnam back in August. Each of those beekeepers had on average 15 hives.  63 of those keepers reported their hives having little piles of turds near the entrance to their colonies, and they appeared *after* attacks from murder hornets. The researchers were able to determine they were a direct response to the attacks!
Not only was it a response to attacks, but it was also an effective strategy. Hives with big enough piles o' feces were less likely to be attacked again. Very cool! I guess Murder Hornets aren't interested in attacking bees who stink like chicken crap. To be fair, I also wouldn't want to eat a honey bee that smelled like dung.
It's important to note: The bees being studied were eastern honey bees. Here in North America we have western honey bees. And they did not evolve next to murder hornets. This means as the invasive species of hornet makes its way into North America, the local bees are at a disadvantage since they haven't learned to farm turds on their own.
Here's the rest of the story if you're interested: https://www.cnn.com/2020/12/09/us/murder-hornets-honey-bees-asia-trnd/index.html