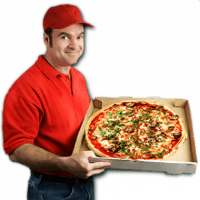 Sometimes people ask me "Hey Robert why did you start working in radio?"
good question. I'm not actually sure. But I think it had something to do with my very short time working as a pizza guy. I worked at a Dominos in Calgary for ~6 months, which really isn't much time to have a job but spending all that time in my car made me really fall in love with radio as a whole.
But you don't want to hear about my journey of self discovery and self actualization, you want to hear about the weird stuff.
so first off: Tip your guy. People seem to have the misconception that the weird "minimum wage exemption for servers and food service industry" thing is an american concept and is illegal here. Well it's not! I got paid $8/hour and relied on the rest through tips and tips alone. So please tip generously! by that math your guy has to get $7 in tips *per hour* to make minimum wage. So like 2-3 dollars per delivery, it's not much please do it.
One time a lady answered my delivery with an open bathrobe and that was very uncomfortable. Please don't do that.
One time a person accidentally tipped me 2000%, saucing me for about 300 bucks. I let him know about the mistake and he was thankful enough to tip me $20 once I refunded it. Kindess pays! (though admittedly not as much as scamming drunk dudes at 2am)
On St.Patrick's day I made nearly $300 in tips in 8 hours. So that was cool.
Domino's are franchise locations so each one is locally owned. My particular location put up everyone's average time for deliveries and gave incentives for faster deliveries. I was always the slowest. I was also the only one who never wrecked their car or got a speeding ticket. Go figure ~$300 bucks on tickets/repairs is not worth a $10 Dairy Queen gift card.
Overall it's a very chill job. A lot of fun. Also weirdly one of the highest Danger/wage ratio jobs. I have probably a dozen more stories, you'll just have to listen for more.