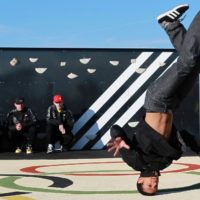 The IOC (international Olympic committee) announced on Monday that breakdancing would be included as a sport at the 2024 Paris Olympic games.
I will admit I was a bit disappointed when I found out 'breaking as an Olympic sport' meant breakdancing and not professionally breaking things. Cause I'm kinda good at breaking things. I'm so good at breaking stuff I break stuff when I'm not even trying.
But anyway this is really rad. Breakdancing is cool and it looks cool and people who do it look cool. I assume that this is gonna be a sport where judges are involved right? You can't exactly measure objectively how good someone did breakdancing like you can with running and jumping. No way to tell who did breakdancing *the most*… Unless you can, in which case I have some questions about the nature of dancing.
It's also not entirely clear what sort of events these will be. I couldn't find out if a doubles format exists but I really want it to! Then Canada could send two really hot people to do breaking together, and they could have mad chemistry and win a gold medal and then we'd have the Tessa Virtue + Scott Moir of breakdancing.
If that doesn't happen, maybe someone can buy the movie rights for the story from me. Let me know, Spielberg!