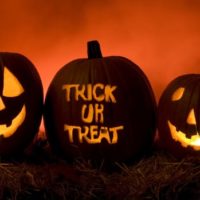 Door-to-door trick-or-treating is discouraged this year due to the pandemic.
Low risk activities include carving pumpkins and decorating your home, outdoor scavenger hunts, virtual costume contests and hosting a movie night with household members.
Moderate risk activities include exchanging treat bags placed at the end of a driveway or the edge of a yard, having a small group outside for a costume parade where participants are at least 6-feet apart or attending an outdoor costume party where masks are worn and people social distance.
"A costume mask is not a substitute for a cloth mask," the CDC said. "A costume mask should not be used unless it is made of two or more layers of breathable fabric that covers the mouth and nose and doesn't leave gaps."
The CDC is
warning
higher risk activities like door-to-door trick-or-treating, attending crowded, indoor costume parties, and visiting indoor haunted houses should be avoided.