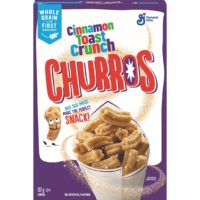 Spotted some new cereal on the shelves of the store this week. From the people who brought you the objectively best cereal in the world, Cinnamon Toast Crunch (or CTC if you're cool), comes a new product: Churro toast crunch. So naturally I picked that up, if for no other reason than that the store didn't have any regular ctc on the shelf at the time.
Aaaaannd. It's fine. It's exactly the same as regular CTC. In retrospect I don't really know what I was expecting. Churros are covered in brown sugar and cinnamon, and regular Cinnamon Toast Crunch is also just brown sugar and cinnamon. Now this isn't to say it's bad. As we all know, Ctc is the best cereal so being exactly the same as the best cereal is a good spot to be in. I just wouldn't pay extra for it.
Now I will note one big difference is that the churro cereal does come in a straw shape, so if you want to you can suck up some milk through a very tiny churro straw and that's just some good old fashioned fun ladies and gentlemen.