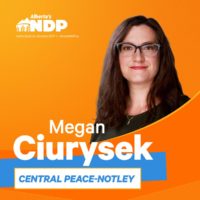 The NDP has their provincial election candidate in place for the riding of Central Peace-Notley.
Megan Ciurysek won the nomination, she says deciding to run was a matter of "community service".
"I ran because I wanted to make sure that our constituents have a strong voice in the legislature, being represented by somebody who has the skills to negotiate and respectfully engage with topic matters and being informed about the issues and the research."
Ciurysek is an analyst with the Government of Alberta grew up a grain farm near Berwyn.
She says that she's heard about wide range of issues from people in the constituency.
"We hear everything from concerns about the environment to concerns about staff shortages in healthcare and just access to public health care, which is a particularly pressing issue in rural regions. Of course I've spoke to a lot of parents who were concerned about the changes to the curriculum."
You can hear our full interview with Ciurysek below.
– Kyle Moore, Trending 55 Newsroom