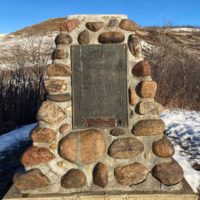 I mostly drove up the big hill actually but I did also have to walk a bit.
Lately I've been taking an interest in what kinda stuff is around Peace River. I've only lived here for a year so I don't really know all  the cool stuff, and I don't have any friends who know where all the cool stuff is either so I'm just left to my own devices and whatever I can find on google.
My research led me to figure out a few things. I learned them in this order: There's a provincial park right next to town, it doesn't have any immediately obvious ways to access it, it's named after a dentist who used to live here, that dentist is also buried in town on a big hill just like that other famous dead guy, that dentist also did a bunch of other stuff (he's not exclusively famous for his dentistry work. I'll get there), the way to go see this dead guy is right next to my place of work.
So obviously I went to go visit! I'm a big time nerd for stuff like this. I used to HATE going to museums or other historical sites when I was younger, which was tragic because my family took me to a lot of museums and historic sites. Tragic that I was made to go to so many of these things I didn't like, but even more tragic is just that I didn't like them. Cause as an adult they are decidedly my jam.
Took me a second because there aren't really any signs up there, but I found him! I had to scale a really steep hill in order to get up to it, but that's fine I was wearing my snow boots. I found the actual path on the way back down, which didn't involve scaling a cliff and made me feel kinda silly for assuming the cliff was the intended route.
And there he is! Dr William Greene. Doctor, pioneer, one of the first 8 dudes to fly. Quite the resume.
Gotta say, it's quite the view up there. There are worse places to be buried.