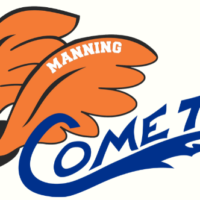 While a coach and executive with the Manning Comets hockey club believes the NPHL season will start on time, there are some concerns with how the after effects of the pandemic could have on the team.
Greg Pasichnuk says with the amount of sponsorship the team gets from local businesses, the economic shutdown could have a effect on them as well.
"Last year, we did a lot of work and gave back to a lot of non-profit groups through our 50/50 program. We're a big part of the community, we really appreciate what all the businesses do for us, I'm really hoping all of them recover well. That would probably be our biggest concern looking into next season."
Pasichnuk says he's optimistic that they won't have to worry about limiting crowd sizes next season, but travel restrictions could affect the availability of players they get from outside the community.
"We have a lot of players that come from up North in the La Crete and Fort Vermilion areas. We have some players that come from Grande Prairie and a few from Edmonton. Depending on what the travel restrictions still might be and people coming from a lot of other communities, hopefully it's not an issue, but some people might not want to put themselves at the risk of travelling."
The NPHL season usually starts around late-October and early-November, Pasichnuk says they usually get between 200 to 300 people at their games.
– Kyle Moore, Trending 55 Newsroom