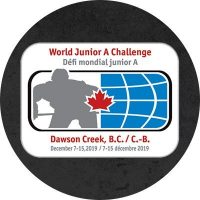 Some of the top junior hockey players in the world will be in Dawson Creek this week.
The World Junior A Challenge will run from December 7-15.
Jason La Rose, manager of content services with Hockey Canada, says the level competition has been steadily improving over the years.
"To have teams like the U.S. here, they weren't there the first year, the Russians and their under-18 team, the Canadian talent just getting better. It's night and day from what that was 13 years ago to what you're going to see on the ice this week."
LaRose adds that a number of big name players have competed in this tournament over the years.
"The Blues won the Stanley Cup last year, they had three guys who played at this tournament. Jaden Schwartz, Colton Parayko and Vladimir Tarasenko, they're all World Junior A Challenge alumni. I know it's not a great name of Oilers fans but Nail Yakupov, before he went first overall to the Oilers, he played in this tournament."
You can find out more about the event by listening to our full interview with LaRose below.
– Kyle Moore, Trending 55 Newsroom