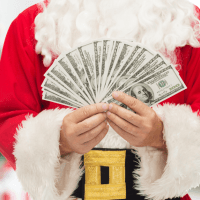 Hey Guys! Kelsey Here. I consider myself a pretty savvy shopping, a seasoned pro. And when it comes to Christmas, I LOVE TO GIVE PRESENTS! Gift cards can shove it. I am here to share a couple small tips with you guys to help you save a little coin this holiday season so you can give great gifts and spend fewer dollars (without the recipient ever knowing you got a great deal).
Of course, I absolutely encourage you to shop local whenever possible, but for those things you just can't get down the street…
The most obvious tip I can give you is to hit sales. Sign up to receive emails from stores you might want to shop at this Christmas and you'll get an email if you have a sale. Black Friday is a big one, and Cyber Monday. Locally, follow stores on Facebook and Instagram. Midnight Madness will be a good one for sales around the region so check out our Community Calendar to see when your community has Midnight/Moonlight Madness.
Have you ever heard of Ebates? Well Ebates is now Rakuten, and it's an amazing way to earn cash back on your online shopping. Just head to the website (or download the app), find the store you want to shop at and when you click on it, it will activate your cash back then bring you to the store's website. Then shop like normal. You will then have your cash back added to your Rakuten account within a few hours of your purchase and Rakuten will mail you a cheque or transfer the money to your paypal account 4 times a year. Seriously, it's so easy. Sign up using this referral link (click here) and you'll get a bonus $5 when you make your first $25 purchase.
Another easy way to save is to download Honey. Honey is an app that will be added to your browser. When you visit a site to shop, it will scan the interwebs and find coupon codes that could take $$ off your purchase.
And because I like y'all, I also have a couple of coupon codes to share with you.
Save on jewelry made in the Peace Country from Autumn Jade Studio with the code Kelsey15
Save on paraben/phthalate free soy candles from Temper + Lace, handpoured in High River AB, with the code Kelsey10
Save on Eatable Alcohol Infused Popcorn with the code KelseyProblemz
Those are just a couple of my money saving tips!