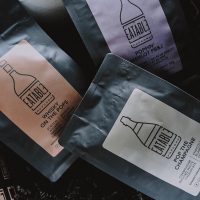 Over the weekend I tried a product that I absolutely had to shared. I was recently introduced to a company out of Ontario called Eatable. Eatable makes alcohol infused popcorn. At first I thought, "wow, what a strange and gross concept". But of course I had to try it.
I ordered the connoisseur's flight pack which comes with 50g of each flavour, three flavours in total. Whisky on The Pops, Pop The Champagne and Merlot PB&J. And guys, I was BLOWN AWAY! The popcorn is air popped whole grain popcorn that is completely natural with no artificial flavours or colours and it is made in small batches right here in Canada.
There is no actual alcohol content on the packaging so I am guessing that whatever alcohol is added is boiled away during the process of creating the coating.
Whisky on the Pops is a whisky infused caramel coated popcorn. It is a really creamy tasting caramel but it isn't overly sweet, it's almost smoky. Pop The Champagne is champagne infused white chocolate, it is also coated in sugar crystals that pop in your mouth! I don't normally like white chocolate because I find it too sweet, but this white chocolate was super smooth, creamy and not overly sweet. Pop The Champagne was my personal favourite flavour. Merlot PB&J is peanut butter and merlot infused jelly. I found the flavour on this one to be a little more subtle, and all I tasted was peanut butter. Overall, all three flavours were so delicious and I have found my new fav snack!