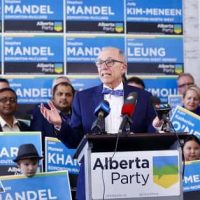 He's the man in the middle of this Spring's provincial election.
Despite the the road to the the 2019 Alberta election being littered with personal attacks and dirty laundry, former Edmonton mayor and current Alberta Party Leader Stephen Mandel is looking to stick to the issues.
Mandel's Alberta Party has a centre-based ideology, which has a heavy focus on education and building partnerships with Albertan communities to increase their prosperity and opportunities.
The Alberta Party Leader spoke with Alex Rodgerson from Trending 55 News this week.
AR: You served as Edmonton's mayor from 2004 to 2013. What did you learn in that time, and do you feel like your time as mayor has better prepared you for a position such as Premier?
SM: There's no question that it has. One of the things you have to be able to build as a Mayor is consensus — even more so as Premier because there's more power, but I'm a big believer in consensus. I learned how important it is to try to bring people along with what you're trying to do, and sometimes you just have to make decisions. Sometimes they're popular, sometimes they're not. I think the Mayor position really helped. I also learned an awful lot about the challenges that municipalities face, as in this job you deal with people from across the province — which gives me greater empathy and understanding of what towns, villages and cities face, and how we can be better partners with them. I think that's really important.
AR: You are formally a member of the Progressive Conservative Party, serving as an MLA from 2014 to 2015. What made you gravitate to the Alberta Party?
SM: The Alberta Party has a balance that I really value. Though we talk about being a center party it's really the way we look at things, we're a party that believes in education, we believe in fiscal responsibilities, and we're not driven (to do things) because our ideology says this, or a specific group in our party says 'you have to believe this' — we try to do what's right. We try to find a balance to make sure economy grows, and I think the Alberta party is the kind of party that allows to people to have their own ideas, but build consensus together. It's a really great team.
AR: Here in Northern Alberta the decline of the energy sector has been pretty devastating to the region. What would your government work to change to ensure the energy sector can thrive going forward?
SM: I think first of all we have to correct this pipeline issue, and I say pipeline but I should say pipelines. We would look at other ways to move oil out of the province, and I think we can put programs in to get some of the wells working that haven't been working. But it's really working with the industry to find out what are the things that they want, and what are the regulations that are causing the troubles. One of the things we can do as a government – and I use the word partner not in the sense of ownership – but Alberta businesses need to know that they're government is with them, and that the energy industry is important and that we're willing to sit and talk. We're here to work with you and I think that's a big part of it. I know several people in Northern Alberta who are having a hell of a tough time with business because the traditional servicing industry is having its challenges, and obviously the heavy oil businesses are not expanding because of the market place. So it's about increasing pipelines, fighting more for Alberta, working for Northern Albertans and to find out what they see – because businesses can tell you what to do. Government's shouldn't sit there and say 'We know everything'.
AR: Just as a follow up to that, what are the challenges in finding the balance between the energy sector – as far as economics go – and the environmental needs of the province?
SM: Well the environment is vitally important. We're a province that I think has great tradition of environmental excellence, but you know the energy industry isn't the enemy. The energy industry is part of who Alberta is, we have to be respectful of that, and I believe that our energy industry cares about the environment – that they want to do things the right way – but sometimes government regulations make it difficult, or sometimes they don't go far enough. For example, orphan wells. How did we get into a situation where we have so many wells that are allowed to sit like this? The government should have done a better job in working with the industry to ensure there was proper security when they were drilling wells. We need to find ways to develop industry and do things in a more effective way. I expressed partnership and working together – that's what I did when I was mayor. Learning that we don't have the answers as government, that we're here to learn and listen from the people that are doing the jobs on a day-to-day basis, and hope to enhance their opportunities. The environment is really important and we need to make sure we need to abide by it, but for example we've said we will eliminate the current carbon tax and keep the heavy emitters. Why? Because we don't believe that punishment is an answer. We think that encouragement and investment is a much better way of doing it than penalizing people.
AR: And just shifting gears, what would your stance be on health and senior care in the province, and do you feel like more can be done – especially in rural areas – to help the elderly and disadvantaged?
SM: Absolutely. We need to work with the religious based groups and not-for-profit groups to build more long-term housing everywhere in Alberta. We need a review of all of our rural hospitals, and see how they can be more effective within their region. We need to de-centralize the health care system so people can make decisions about the future of health care in their own communities, and if they prioritize things then how can we do that and how can we budget for it, and it's about delivering front line services to people in an effect way. Nurse practitioners are an incredibly skilled and talented group of people – use more nurse practitioners in more isolated areas. Create more opportunities for investment in clinics and investment in people staying in the north, and supporting that investment with government regulations to ensure that people are working up there. So that Northern Albertans – and Albertans across the province – get access to the health care they need.
AR: Earlier this week the Alberta Teachers Association came out saying that the overcrowding over classrooms is the biggest problem facing schools, yet here in Northern Alberta class sizes sometimes diminish to the point of school's getting rid of full grades all together. How would you help rural schools get the attention they deserve, and what would you do to help Northern Alberta education?
SM: Well that's a great question and one of the top priorities of the Alberta party. Certain things we would do is we would develop a different formula for rural communities and urban communities. They're not the same and they have different problems. In big urban areas there is overcrowding but in many of the smaller rural areas they're trying to survive. We want to find a different model that's going to allow them to be effective and sustainable. To close a school in a community — is a horrible death nail for the community. We need a different funding model for rural and urban, and we also need to get a better model for transportation so that schools aren't using their classroom money for transportation. I think the other thing is we could do a much better job at long distant learning, and as there's sometimes a challenge in getting teachers – a lot of retired teachers have great skills could go on payroll to go around northern communities to teach specific classes. There's a lot of things that can be done to be more dynamic and creative, we just have to listen to the people in the North for what they need and how we can be their partner.
AR: One of the biggest arguments so far during this spring's election has been the debate of public vs private industries. UCP leader Jason Kenney says he wants to privatize most industries, while the NDP leader basically wants the opposite. Where would you stand on privation vs public enterprise?
SM: Private enterprise is all we need in the province. Private enterprise pays taxes, is efficient, and is responsible. We deeply believe in the necessity of the private sector and entrepreneurship. I am an entrepreneur, and have been for many decades. I often think they (the NDP) refer to things like wanting to build a Lab for the treatment centre. We believe we shouldn't do that, we should get the current organization to expand their operations to meet the needs of Albertans – that being said we shouldn't have to spend billions of dollars of Alberta's money to do that, we can force the private sector to do a better job. There's a lot of things the government has tried to do, for example build long-term care. They want private groups out of long-term care, while we think the not-for-profits, religious groups and for profit groups should be involved in long term care. The government needs to be there to help facilitate things getting done, not to be an inhibitor of things getting done. So we see (government) playing an important role in making sure things are done right, but also not interfering with business so it doesn't allow them function.
AR: So far in this provincial election, personal attacks and accusations have taken almost a greater precedent than the issues themselves. As a party leader do you feel things have gotten too personal in this election?
SM: Yeah it's sad. I talk to more and more people, and they're embarrassed by the actions of both the NDP and UCP. We've tried to stay away from that, and we will, the unfortunate part is it seems like the nastier you are the more publicity you get. We're not going to do that, we're going to try to be civil, and we're not attacking anyone personally. We'll attack their policies, or the ideas that they have, but individual attacks is not something the Alberta party is going to do. We feel Albertans don't like that – it's a nasty way to do business. It's something that's turning off many young people, they shut their eyes and go to sleep when they hear about some of the things happening. One of our staff members has actually said she's turned it all off, saying she just can't stand listening to it anymore. It's just fight, fight, nasty, nasty, and we will not do that. We haven't up until now, and still won't.
–Alex Rodgerson, Trending 55 News