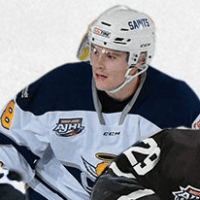 The AJHL playoffs start this weekend and Fairview's Cole Basnett is hoping for a deep run with the Spruce Grove Saints.
Spruce Grove finished in second place in the AJHL's North Division and will face the Grande Prairie Storm in the opening round.
Basnett says the key to this series will be to "stike them down early".
"They're a fast team and can capitalize on their chances if you give them to them. I feel like you got to take the winds out of their sails really quick, or else they have a feel that they can win every game. Honestly with teams in this league, anyone can win any game."
Basnett was with the Saints last year when they made it to the AJHL finals and were swept by the Brooks Bandits.
He says that loss has given him some extra motivation to get a championship this year.
"The only thing that's been on my mind pretty much since summer when last season ended is just to win a championship. To get back there and prove that we can win it. There's definitely fuel there that's gonna push us a long ways."
You can listen to our full interview with Basnett below.
– Kyle Moore, Trending 55 Newsroom