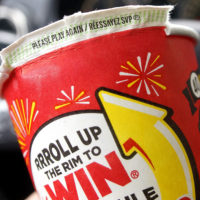 This year, like many… many other things, Roll Up the Rim to Win is going Digital.
In response to UNPRECEDENTED events, this year there's not gonna be any rims to roll for the roll up the rim contest. And I have a mixed bag of feelings about this.
Naturally it's a bit of a bummer because the roll up contest has been a mainstay in Canada since the beginning of time. I don't love the way we've made Tim Hortons part of the national identity since it's, at best, a very mediocre brand. But Roll up overlooks the terrible sandwiches and I would say has actually earned itself a place being part of Canadian Culture.
That being said it's also not that great. It's never been super cool the way we hand over little bits of paper to hard working Tims staff which have just been in our mouths. It's always been gross but this year it's just downright dangerous. No reason to risk those people's lives for a chance at free coffee.
Roll up has also always been pretty bad for the environment. Lots of extra waste is produced because of it, and people rarely remember to recycle the cups (if where you live even offers that type of recycling!). I remember how I could always tell when rollup started because cups with torn rims would start appearing in parking lots everywhere. Is that Tim's fault? No, but that doesn't mean the promotion didn't also directly coincide with increased litter and increased waste.
So what's happening now? Well now they got new cups that come with a little scannable code on them. You beep it with your phone and it might give you some rewards. Less exciting IMO but also necessary and ultimately a good move.