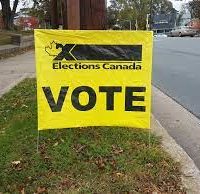 Today is general voting day in the Federal Election.
You can cast your ballots…
In Peace River at the Belle Petrolum Center, and the Misery Mountain Ski Chalet.
In Grimshaw at the Kennedy Administration Building,
In Falher a La Centre Chevalier,
In Valleyview at the Memorial Hall,
In McLennan at the Golden Age Center,
In High Level at the Public School,
In La Crete at the Heritage Center,
In Manning at the Manning Elementary School,
Fort Vermilion, High Prairie, and Fairview, you can vote at the Legion.
Trending 55 will have complete election coverage on the Peace River-Westlock and Grande Prairie-Mackenzie ridings tonight, beginning when the polls close at 7:30.
**
While the federal election is on today, nominations are due today for candidacy for Municipal elections, happening next month.
Most jurisdictions in Northwestern Alberta have elections coming up.
Check your area website or Facebook page for deadlines to submit nominations.
Municipal Elections happen on October 18th.
Keith Hopper, Trending 55