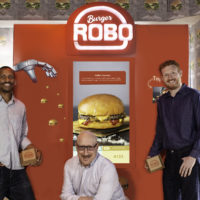 What is it with people wanting food to come out of a vending machine? I also don't really want to interact with other humans, but personally that fear is outweighed by the desire to have food which is less likely to have been sitting in a mysterious box for an indeterminate amount of time.
Despite the obvious downsides, this has not stopped the people behind ROBOBURGER: The world's first burger robot in a box.
If you add enough qualifications, you can be the first at anything.
That opening tagline is so weirdly specific I was almost convinced this was an SNL skit.
So here's RoboBurger: a vending machine which serves burgers. Why? Because maybe you're stuck in the Winnipeg airport for a 45 minute layover and you need something to eat.
The RoboBurger cooks a burger from scratch in under 6 minutes. You get your choice of ketchup, mustard, and/or melted cheese. And thats it. No other toppings are available. But at least it only costs… nearly $8 USD.
The people behind Asimov's final dream here call the RoboBurger the "biggest innovation in hot food vending since the invention of the microwave."
Buddy, I'm sure the engineering behind this machine is absolutely incredible. Truly. I mean that. It's a marvel of engineering to make a thing like this work and I'm sure this will have some kind of implications later for the automation of fast food.
BUT.
We gotta be honest with ourselves right? This thing sucks.
– Robert Hill