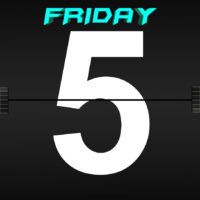 May is Mental Health Awareness Month so for this weeks Friday 5 I will look at the Top 5 songs that will cheer you up when you are down.
There is so many different songs to choose from from many genres that can cheer you up so this one will be a hard list to make, but I will do my best to pick some top songs.
5. Bobby McFerrin – "Don't Worry, Be Happy" 
You cannot have a list of songs to cheer you without the classic "Don't Worry, Be Happy" by Bobby McFerrin. The song just preaches for you to forget you troubles and just cheer up and be happy. It's a an easy going song that will suit any mood.
4. Darius Rucker – "This"
Darius Rucker has a number of songs that will cheer you up but for me "This" is the best one, sorry "Wagon Wheel." The song talks about how all the sad upsetting things as well as all the small random things have all led to this good life he has now. It can be frustrating getting turned down by a person whether its for a date or job or even getting stuck at red lights but it all led to something better. It is a great song that reminds the listener that it gets better.
3. Marvin Gaye & Tammi Terrell –  "Ain't No Mountain High Enough"
It's very hard to be sad when this song is being played. The Marvin Gaye classic is up beat, catchy and can spin your mood around the second the beat kicks in. The song is about overcoming and being able to get through things, granted this one is more of a relationship song than about other things that can get you down. This is a staple on any "Cheer Up" playlist you may have.
2.   Shania Twain – "Up!" 
Shania has songs that suit any mood, but if you are down "Up!" will lift your spirits. It doesn't matter if it's the Red version (Pop) or the Green version (Country) it is just so infectious that it will put pep in your step that and the beautiful smile back on your face.
1. Great Big Sea – "When I'm Up (I Can't Get Down)"
Taking the top spot is the boys from Newfoundland Great Big Sea with their classic track "When I'm Up." The song talks about bad times will come along but when you get up you can't get down, and you can get your feet back on the ground. The upbeat pop-folk song just makes you so happy with it the nature of the lyrics with positive lyrics.
– Everett