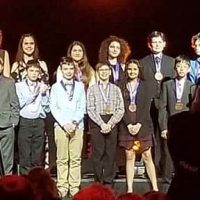 Glenmary student Jonathan Goudreault picked up a bronze medal at the Canada-Wide Science Fair on Wednesday.
Originally getting its start in 1962, the Canada-Wide Science Fair brings together science, technology, engineering and math, in a celebration of Canada's brightest young minds. This year the festivities would take place in New Brunswick from May 11th to 17th.
Goudreault, currently a grade eight student and noted farmer, earned a bronze medal for Excellence Award in the Junior Category with his project entitled "Microwave Manipulation".
In an effort geared towards crop production, Goudreault tested if the radiation from a microwave over different periods of time could affect the growth and germination of pea seeds.
Goudreault notes in his CWSF bio that the idea for the project came to him last fall, while he was harvesting peas on his family's farm. The grade eight student's interest in learning new ways to improve crop yields rather than using traditional fertilizers was also a main idea behind the project.
–Alex Rodgerson, Trending 55 News