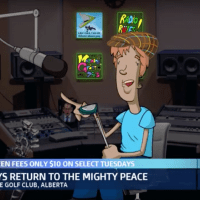 It's tea season! Wait… tee season! And I'm not talking about t-shirts!
Yes, Golf Days are back at the Mighty Peace. To better help build some hype around the blossoming golf season, I've enlisted the help of an old, faithful, animated friend of mine, Eddy Gritowski!
Special thank you to our Digital Media Manager, Brian for throwing this together!
What are you most looking forward to this golf season?