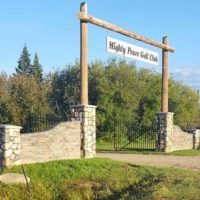 The fourth stop on the Great KIX FM and River Country Golf Tour makes its way to the Mighty Peace Golf Club. Co-Owner Dave Allen talks about what the course has to offer in the golf shop, restaurant, affordable golf, specials and tournaments.
If you're looking to load up on golf gear before hitting the course, the golf shop offers all sorts of clubs, shoes, clothing, and smaller accessories to meet your golf needs. Allen jokes about not golfing as much as he would like but did mention his favourite hole on the course is the par 4 11th and his favourite green is on the 16th hole.
The restaurant at Mighty Peace has a wide array of menu items.  Allen says the clubhouse sandwich is popular along with the hamburgers that are available to fill your belly. On hot days there are outdoor picnic tables set up to enjoy a bite in the great outdoors.
Don't forget, every second Wednesday through the summer, you can golf for just $10 as KIX FM and River Country partner with Mighty Peace to put on Golf Days. The most affordable golf you can ask for. Don't forget to call the course at 780-332-4653 to book your time and visit their website.
To hear the full interview with Dave Allan click below. Follow KIX FM and River Country on our social media and keep an eye out for golf tour posts where you have a chance to win golf passes to every course we visit.
– Calvin Hector