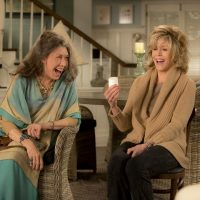 Lily Tomlin and Jane Fonda have brought the characters of Grace and Frankie to life in such a way it can only be described as the ultimate aging goals. The show is full of quirky and lovable scamps, it has made us laugh and cry…and after it's seventh season it will come to an end. A seven season run will make it the longest running Netflix Original, at 94 episodes. There are currently 5 seasons of the show streaming on Netflix, with season 6 coming in January 2020.
If you've never watched Grace and Frankie, it's about two women who are ready for retirement when their husbands announce they have been having an affair for 20 years and intend to leave their wives to spend the rest of their lives together. The show follows the two clashing personalities and their families as they maneuver their way through this new life, well into their 70s.
Honestly, this show is the only reason I even still have my Netflix account. I am still bitter about them cancelling Santa Clarita Diet.