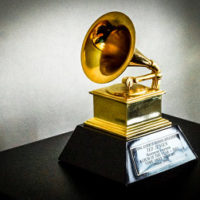 It's award show season. Kinda. It would be time for the Oscars right around now, but they've been postponed until a good movie actually comes out. Otherwise they're gonna have to give pest picture to Trolls World Tour and no one wants that.
But luckily, good music came out this year which means we can still do the Grammys. Those are happening at the end of this month which means the time is ripe to make some predictions so I can look really smart come February.
-Harry Styles looks super cool and well dressed. Maybe a tasteful orange?
-Beyoncé wins 5/9 of her nominations. I don't know which ones they'll be but it's gonna be 5 of them.
-Jason Derulo falls down the stairs.
-Billie Eilish wins back to back record of the year. Last year she won with Bad Guy, and this year Everything I wanted could get it again. That would make Billie the third artist to ever win back to back album of the year awards.
-Postie gets a new tattoo live on stream. Maybe a second Olive Garden tattoo. Maybe his Denny's' Order.
-Someone's pet will make an appearance
Put this post in your pocket for later. Every single one is gonna come true, just watch.
EDIT: 4 hours after I wrote this the Grammys got postponed until March. So you're gonna have to sit on these predictions for a bit. They'll ferment in the back.