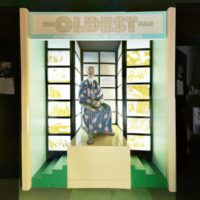 Sure you have. Just like me and everyone else buddy. Who doesn't? Just one of those universal things I think. Unfortunately most of us won't ever get our chance. But one person could! All you gotta do is have a bunch of money lying around and win an auction.
What the hell am I talking about? Well last September, the Guinness world record museum in Niagara Falls unfortunately had to close their doors, and now they're selling all their stuff in a one of a kind auction. This is a rare chance to own such incredible memorabilia like: The worlds smallest Koran, the worlds smallest bicycle (well it was the smallest at one point in time. There's a smaller one now), and yes! You can even own the world's oldest man!
Finally. I've really been meaning to do some interior decorating and I think this'll really tie my apartment together. It's the perfect item to go right smack dab in the middle of my living room. The current bidding is $400 so now all I have to do is find 401 dollars and I'll finally have completed that goal that so many of us have.
If you want to try and beat me in a bidding war, the link is here