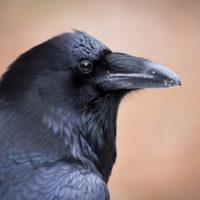 Last week I saw what I thought was a crow sitting on a fence making a sound I'd never heard a crow make before. Did some quick googling and found crows don't make any sounds like that. I thought "ah well it's probably a raven then" but I also couldn't find any evidence of ravens making these sounds! It probably was still a raven, just doing some mimicking or a less common vocalization. Still, kinda neat if you're a dork like me. I just wanted to share cause it made me happy.
Take a listen:
Personally I think crows are cooler than ravens but all birds are cool so I guess ravens are cool too.
Here's some fun facts about Ravens:
They're one of the smartest animals in the animal kingdom. They've been known to be able to solve puzzles, throw rocks at people, and play dead around carcasses to scare other ravens away from their score. I know "throwing rocks at people" isn't typically on a list of traits for smart things, but it is on the list of smart traits for birds, proving they're at least as smart as a 12 year old boy with a crush who doesn't know how to express his feelings
Ravens are better mimics than parrots. They've been known to imitate human speech (Nevermore!), car engines, toilets flushing, and they also sometimes imitate foxes and wolves to lure them to carcasses they can't break open on their own (then they get leftovers)
Ravens do this weird thing where they love to roll around in anthills. Sometimes they mush up ants and rub the ant goo on their feathers. We have no idea why they do this but they seem to love it.
If you want some bonus listening, here's a podcast episode looking into the idea that crows hold funerals for their dead. It's one of the best episodes of Here Be Monsters.