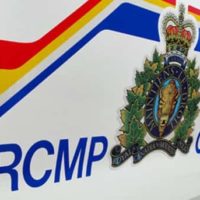 A bull dozer fire on the Peavine Metis Settlement on August 24 has resulted in charges against two High Prairie men.
High Prairie RCMP received calls about the fire around 1:15 in the morning, they attended the scene and attempted to put out the fire, but were unsuccessful. The High Prairie Fire Department was called out and extinguished the flames. The damages to the dozer surpass $500,000.
Two individuals have been charged with arson in connection to the bull dozer fire. 23 year old Brett Blackhurst and a 17 year old male, both from High Prairie. The two were arrested and released on undertaking conditions.
Blackhurst is scheduled to appear in High Prairie Provincial Court on November 19, and the 17 year old on November 2 in High Prairie Provincial Youth Court.
The youth will not be named under the provisions of the Youth Criminal Justice Act.
-Erika Rolling, Trending 55 Newsroom