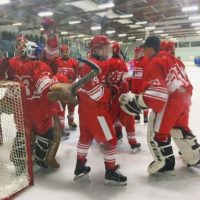 The GMHL's High Prairie Red Wings have added some more local talent to their organization.
At the GMHL Draft, the Red Wings drafted a pair of High Prairie products who spent last season with the Peace River Royals, Dayton Shantz and Blake Anderson.
Head Coach and GM Ryder Prue says they'll be part of the strong core of local players who helped lead the team last season.
"The local players are pretty much a huge part of our team, not only getting the fans there but as well as winning with Larry Yellowknee, Mikal Chalifoux and the other two Yellowknee brothers right there. That always brings the fans out too, having the local guys get a lot of ice time and having them on the team. It's a good tool to use."
The team finished in second place in the GMHL's West Division with an 18-19-4 record for 40 points.
Prue says their off-season has had some challenges with the pandemic affecting their activities.
"Obviously you'd like to go watch guys play down the stretch, but when our season ended and there's no identification camps, you're pretty much going off of their points and from people who've seen them play. It's pretty tricky but you got to do what you've got to do."
The West Division last season had teams in High Prairie, Slave Lake and Enoch. They will be joined next season by an expansion team in Fox Creek.
– Kyle Moore, Trending 55 Newsroom