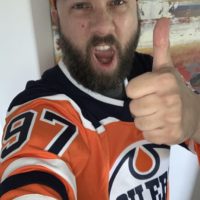 Hockey will be back this summer! Huge announcement from the NHL this week.
Sounds like it's time to stock up on chips and booze, call dibs on the big screen, and get ready to settle deep into your favourite spot on the couch.
When 2020 hit, nobody expected the madness that was on the horizon.  It turned our lives upside down.
The sports world quickly came to a halt.
Now, as the world slowly returns to a sense of normalcy, Canadians will be awarded with their favourite pastime.
When we are normally taking in festivals, spending weekends at the lake, hitting up the rodeo scene… we instead can social distance ourselves with Hockey Summer Nights in Canada.
Here's how it's going to work.
Sometime before July, two hub cities will be announced.  City 1 will host the Eastern Conference games.  City 2 will be home to the West. Get ready to pump in the crowd noise.
The top 4 in each conference – as it stands now – will compete in a one game round robin for seeding.
In the West that's St. Louis, Colorado, Vegas, and Dallas.  In the East it's Boston,Tampa Bay, Washington, and Philly. Regular season rules will apply.
The next 8 teams in each conference will play a best of 5 series.  Playoff rules will apply.
5. Edmonton vs 12. Chicago
6. Nashville vs 11. Arizona
7. Vancouver vs 10. Minnesota
8. Calgary vs 9. Winnipeg
5. Pittsburgh vs 12. Montreal
6. Carolina vs 11. New York Rangers
7. New York Islanders vs 10. Florida
8. Toronto vs 9. Columbus
Because I can't help myself… I bolded the teams I predict to win that opening round series.
And of course the Oilers will lift Lord Stanley in the dog days of summer, as we talk about what the new school year brings.
It's weird to think that we'll have hockey for most of the summer, and maybe into that new school year, but count me in!
Gotta throw on my Connor Jersey, and go stock up.  See you at the store.  But don't forget to stay a hockey stick away.  And please follow the arrows, or I will hip-check you into the soup.
– Damien Gnass