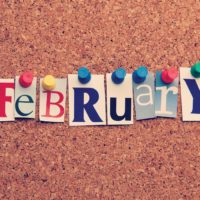 Have you heard the news? It's the second month of February. If you didn't know, now you know.
February is a deceptively busy month! At first when you think about February and you think "Oh sure Valentines day", or maybe "Oh is it a leap year this year?", but if you keep thinking you start to realize there's a lot going on.
I mean right off the bat we have a National holiday, since Feb 1st is Harry Styles' birthday. Kinda weird that it's not a stat but okay.
Then on the 2nd is Groundhog day where we get to see the prophetic properties of the common prairie animal at work.
Then later in the month we get SuperBowl Sunday, which doesn't really constitute a holiday as desperately as food blog writers would have you believe. If eating cheese and deep fried food while watching some boys wrestle is a holiday, then so is every summer camping trip.
Then on the 13th is singles awareness day
14th is Valentines day so don't forget to leave out offerings of vitamins and flowers on your doorstep so the ghost of St. Valentine doesn't curse your household
15th is Family day which I don't have any jokes about. Just spend some time with your family if you can. Tell your mom you love her.