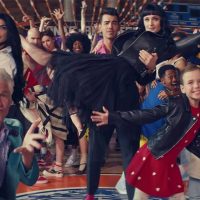 The Jonas Brothers comeback continues with the release of a brand new single, that was not included on their Happiness Begins album. What A Man Gotta Do was accompanied by a music video that includes the Jonas Sisters.
Of all the singles they've released in the past year, I think this one has got to be my favourite. Sucker was decent and Cool was Cool, Only Human is noooot my jam but this one I can get behind.
One thing, I couldn't help but notice that Danielle's dancing kind of….lacks enthusiasm in comparison.