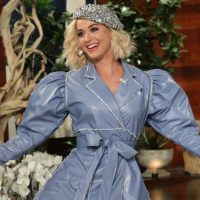 Katy Perry appeared on The Ellen Show and she talked to Ellen about her upcoming wedding to actor Orlando Bloom, how their relationship has changed her lifestyle and how her feud with Taylor Swift finally came to an end.
Katy and Taylor made hearts around the world melt when Katy appeared in the video for You Need To Calm Down and the two embraced while wearing fast food costumes.
Check out Katy's chat with Ellen below.