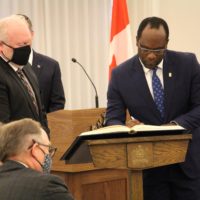 Justice Minister and Solicitor General Kaycee Madu was back on the Trending 55 Hot Seat to cover a wide range of topics.
We asked him about:
hiring more officers for rural Alberta
his plans over the holidays
praise for Sgt. Andrew Harnett, a Calgary police officer killed in the line of duty and those who step into a cruiser each day, not knowing if they will make it home
his thoughts on the feedback for Police Act reform and when he hopes to have a report available;and,
he once again condemns acts of hate.
Our full discussion can be found below.
– Kenny Trenton, Trending 55 Newsroom

Tags: