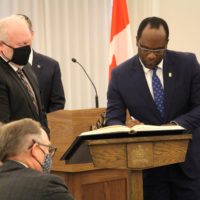 Justice Minister and Solicitor General, Kaycee Madu joins us for a weekly discussion on the Trending 55 Hot Seat.
This week's discussion mostly focused on the legislation tabled by Madu last week in the legislature, which includes the recognition of First Nations police services.
However, many other aspects of the amendments also include introducing more technology into Alberta's justice system.
Madu also talks to us about police brutality in his native country of Nigeria and shares an emotional story involving a member of his family.
Our full discussion with Madu is below.
– Kenny Trenton, Trending 55 Newsroom

Tags: