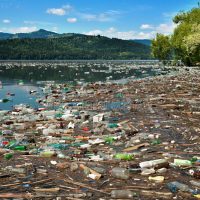 A pretty incredible person was recently brought to my attention and I wanted to share him with you all; hopefully you can find some inspiration in his story. This April @MillionBottlePledge hit the road running, literally. His goal was to run from Vancouver to St.John's…all while cleaning up our highways. Plastic Pollution awareness is on the rise, and while people are more educated than ever about the effects this has on our environment…a sad amount of people seem to simply not care. So here are some facts courtesy of Surfers Against Sewage:
Scientists have recently discovered microplastics embedded deep in the Arctic ice.
In 1950, the world's population of 2.5 billion produced 1.5 million tons of plastic; in 2016, a global population of more than 7 billion people produced over 320 million tons of plastic. This is set to double by 2034.
Every day approximately 8 million pieces of plastic pollution find their way into our oceans.
There may now be around 5.25 trillion macro and microplastic pieces floating in the open ocean. Weighing up to 269,000 tonnes.
Plastics consistently make up 60 to 90% of all marine debris studied.
Approx 5,000 items of marine plastic pollution have been found per mile of beach in the UK.
Over 150 plastic bottles litter each mile of UK beaches.
Recent studies have revealed marine plastic pollution in 100% of marine turtles, 59% of whales, 36% of seals and 40% of seabird species examined.
100,000 marine mammals and turtles and 1 million sea birds are killed by marine plastic pollution annually.
It is absolutely incredible to see people like @MillionBottlePledge doing their part. If you want a real eye opener, follow his journey on Instagram.