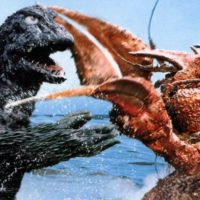 Nothing like ending a bit of a hectic week with the movie equivalent of a diner egg sandwich. Which is to say, not really especially good, but always about the same, safe and mostly impossible to screw up even if it's a little bit messy to eat.
This week I watched Ebirah, Horror of the deep (1966). AKA: Godzilla vs the Sea Monster.
This one is really strange. It was originally made to be a King Kong movie, but the script was rejected, so in a time honoured tradition, they gave it to Godzilla. And you can definitely tell. There are some big Skull Island vibes coming from this movie and a lot of parts where it would make way more sense if it was Kong and not Big G. There's a scene where Godzilla notices a nice native girl, and decides to stop rampaging to protect her. Not exactly his M.O eh?
Even still, or perhaps, because of this, I found Ebirah to be a much more pleasant movie than the last three movies. It's a really dumb flick with a nonsense plot, but it at least does us the favour of not pretending to be anything other than what it is. The plot isn't exactly good, but it at least holds up under the slightest bit of scrutiny. It's mostly believable and thankfully doesn't insult the viewer by attempting to explain itself.
The acting is pretty decent. I didn't notice it one way or another, so I'll take that as a sign that it must have been alright.
The action is also pretty decent. Sometimes these monster fight scenes go on for a really long time and it gets pretty tiring, but Ebirah has a good variety in its scenes so it stays fresh most of the way through. There's even one part where Godzilla Judo throws Ebirah, and I love that so much because it's the same throw Kong uses on him in King Kong vs Godzilla! Which you could explain away as Godzilla learning the throw, or you can realize this is another hilarious leftover artifact from the original King Kong script. You gotta appreciate the little things!
I also really appreciated the soundtrack to this one. It has this badass retro Japanese rockabilly soundtrack, which I realize wasn't retro at the time, but it's a lot of fun to listen to now. It gives a lot of energy and levity to the fights.
My biggest criticism of this flick is Ebirah is actually almost entirely pointless. He doesn't actually do anything. The plot revolves around some people who get stuck on an island which some kind of scary private military is using as a weapons manufacturing plant. Ebirah guards the waters around the island which is supposed to be important somehow, but if he wasn't in the movie, almost nothing would change. He smashes some boats, he gets killed by Godzilla (Sorry, spoilers I guess…) and other than that he's kinda just there. The suit looks good and the special effects in the storm scenes are actually really good, but it's weird how little Ebirah actually contributes to the movie.
Should you watch Ebirah, Horror of the deep?
For the first time in a while, I'm gonna say yes. This one is actually halfway decent. If you like the genre, then this one is pretty good.
Next week we're watching Son of Godzilla.
A real turning point of the franchise I hear. Guess we'll have to see for ourselves!
– Robert Hill