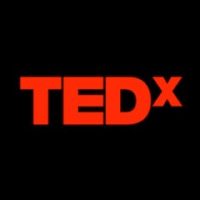 Spoiler alert: I loved it.
Pretty much everything about the event was fantastic. I went with my boyfriend and we both decided that the MC is literally just me with an afro. Which we decided after I made a joke under my breath that he ended up also saying, like… 3 times in a row.
The speakers themselves all had some really great things to say too! They all had loose ties to the overarching theme of "visions of our future" but they were all hopeful visions, and not all the doom and gloom that Nostradamus is known for. The first speaker wanted to redefine beauty. Then, someone was talking about how we can use knowledge of our genetic code, and use that to improve out health and our lives, and that soon, everyone can live their best life by knowing more about themselves. There were speakers talking about the energy sector, and how to make energy affordable to low-income families, and how to how to become more responsible with our energy production and consumption. There were speakers who talked about how to become a great leader, and how to use every employee to the best of their abilities, and to become a better business. Some people talked about overcoming hardships, or using stress to their advantage, and another talked about how to conquer stress, and to make the workplace less stressful.
Probably my favourite speaker was the final one, as she spoke about something I've been trying to tell people for years. Diets are straight up BS, and they do not work, and they will never work. What she had to say was way less bleak though, because she actually offered some real strategies to lose unhealthy weight, and get to a healthy size for yourself. It's probably not much of a surprise, but it involves 3 easy steps: Eat vegetables, move your body, and get enough sleep. The same stuff we've always known that we need to do to be healthy. She quoted Aristotle, saying "We are what we repeatedly do. Excellence, then, is not an act, but a habit." And she gave some great advice on how to create the necessary habits to lead a healthier and happier life. It's not the sexy, catch-all, instant-win solution that we all look for, but it's the truth.
Once the recordings of the talks are out on YouTube, I'll have links to them here, so check back in about a week!