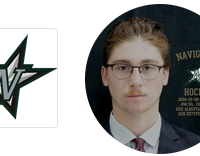 Former North Peace Navigators captain Tulsen Fawcett has managed to stay involved in the game since his junior hockey career ended.
The product of Grimshaw says his connections with the Navs helped him get involved in coaching minor hockey in Calgary.
"The team has really good connections and they use them to help players advance. This last year, I coached with the Calgary Royals athletic club. I helped coach a bantam AA team and I would've never got that gig if it wasn't for the Navs. They put me in touch with the Junior B team down there when I went for school and I played a little bit before COVID shut it down. Through that connection I managed to get this coaching gig for the past year."
Fawcett says he'd like to get involved in coaching in this region after going to University.
"I've recently applied to the veterinary school at the University of Calgary. If I get into that it will be a little tough but I'm going to try and stay in touch with the guys I've coached with and do as much as possible with them. Ideally once I'm back here after school's done, I'd like to get into coaching and give back to the teams that gave so much to me."
You can listen to our full interview with Fawcett below.
– Kyle Moore, Trending 55 Newsroom