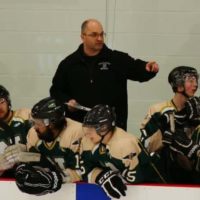 The North Peace Navigators are continuing to honour the legacy of former head coach Darcy Haugan.
Haugan was one of the victims of the Humboldt Broncos bus crash which happened two years ago today.
Navs GM Mike Fosty says a bronze statue of Haugan is currently in the works.
"The gentleman that does all the bronzes for the Calgary Stampede, he's working on it right now and it's gonna be placed out in front of the Baytex Energy Centre when it's completed."
Fosty anticipates that the statue will be completed in October.
He says his biggest memory of Haugan was his commitment to being a mentor to the players who came through the organization.
"He cared more about the players growing up to be men then actually being hockey players. He wanted them to succeed in life, that's the type of guy he was."
Haugan was the head coach and GM of the Navs from 2003 to 2015.
– Kyle Moore, Trending 55 Newsroom