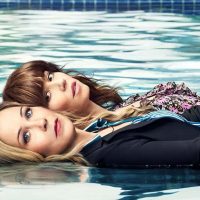 What doesn't kill you gives you a lot of unhealthy coping mechanisms and a really dark sense of humor. Or, at least that's MY excuse. I am a horror junkie, and I LOVE dark comedy. Anyone else hella sad they cancelled Santa Clarita Diet?! I've recently been catching up on The Walking Dead but I took a break from the blood and gore to watch a new Netflix original, Dead To Me. Dead To Me stars Christina Applegate and Linda Cardellini. Surprisingly, Will Ferrall serves as one of their executive producers. The show tells the story of a woman widowed after her husband is killed in a hit-and-run and a new friend she makes at her grief group; a new friend who is hiding a massive secret.
I am only a few episodes in so it doesn't quite have me all "Le Gasp" yet, but I know the juice is coming and I would highly recommend it!
I really would like there to be more of this, so please watch it. Watch it a dozen times. They cancelled Santa Clarita Diet, I need this.
UPDATE: I have finished the show since originally posting this and I feel even stronger about the fact that y'all need to watch this. I think one of my favourite things about it is that it revealed all the shocking details really casually and slowly, they didn't try too hard but then blew your mind with an incredible ending.
Trailer contains adult language.