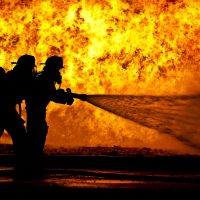 Up to 130 firefighters will be in Peace River for the next few days.
The 21st annual Northern H.E.A.T. Conference kicked off yesterday with the first day of training.
The 4 day conference focuses on firefighter training, along with guest speakers and a trade show on Friday & Saturday at The Chateau Nova.
We spoke with Tim Harris of the Peace River Fire Department about the importance of H.E.A.T. – which stands for Hands on Education and Awareness Training.
Harris explained that "it gives students the opportunity to take some training they normally wouldn't get in this part of the province.  For some of the firefighters here it's their first time experiencing any live fire training. They're seeing exactly how fire reacts and how fire behaves in a structure".
Over 50 students from Northwestern Alberta, B.C., The Northwest Territories, and even one from Newfoundland, get to acquire that valuable experience at the training site in the West Hill Industrial Area.
For the more experienced firefighters, they get to test out new techniques.
The indoor part of the conference kicks off with opening ceremonies at 8:00 on Friday Morning, followed by keynote speaker Mark vonAppen, a Captain out of California.
There's a Trade Show that takes place on Friday from 3-9pm, and again on Saturday from 11am-to-1pm.
It'll wrap up with more onsite training throughout the day on Saturday.
-Damien Gnass, Trending 55