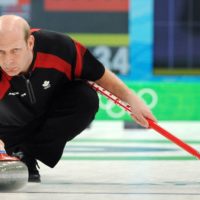 Olympic gold medal winning curler Kevin Martin is coming to Grimshaw to help raise money for the Grimshaw Curling Club's Ice Plant Fundraiser. This is a continuation from the summers golf tournament when the supper portion was postponed. The club's ice plant is on borrowed time and is a staple of the community. With Fairview's Curling Club shut down for at least the season it is important to keep these community places going and this event could be the difference maker for the Grimshaw Curling Club and their ice plant.
The curling legend and television analyst will be in town on January 27th where he is visiting some schools to promote having a healthy active lifestyle before heading to the Grimshaw Curling Club for a curling clinic. The clinic will begin at 4:30pm and will be 1-1.5 hrs long where you will get to learn from the man who is widely considered the best to ever do it. The clinic costs $25 and is for ages 12+ with limited spots available.
Following the clinic at 6pm will be a Wine and Cheese event where Kevin will mix and mingle and tell stories from his extraordinary career which should have some interesting ones I am told. There will also be a silent auction taking place. Tickets for the Wine and Cheese will be $25.
They are having a Funspiel on the 27-28th, 4 end games and with entry in the Funspiel the Wine and Cheese event is included. $240 to enter a team.
I got to talk with Kevin martin about his upcoming trip to the region for the fundraising event, you can hear the full interview here:
For more information or to sign up for the Clinic, Wine and Cheese or the Funspiel you can reach out to 780-618-3717 or email grimshawcurlingclub@hotmail.com
-Everett