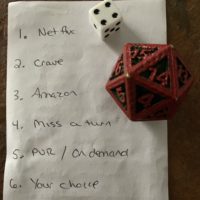 During the pandemic we've watched a lot of TV.  Way more than I thought was possible.  Could be one of the reasons I've gained 13 pounds?
So much TV, that we came up with a way to bypass deciding what to watch when.  Nobody has time for that when you have 30+ shows to get to.
Our system includes a complicated, and yet fun,  three list and two dice procedure.
At the beginning of our TV watching session, we each roll a 20 sided die.  Highest gets to go first.
However, if one of us rolls a 20, or we both roll the same number, or the total of the two rolls equals 20… then the winner gets to choose the show.
If none of those scenarios occur, the person who rolled the highest number, picks up the 6 sided die and hopes to roll an even number.
If an odd number is thrown, the person picks up the master list of 19 TV Shows.
Current Master List:
1. Homeland
2. Handmaid's Tale
3. VEEP
4. Californication
5. Avenue 5
6. Newsroom
7. Kidding
8. Billions
9. Westworld
10. Blue Bloods
11. The Witcher
12. Shameless
13. Breaking Bad
14. Bloodline
15. True Detective
16. The Sinner
17. Gotham
18. Ballers
19. Tiger King
20. Your Choice
They then roll the 20 sided die to see what show we watch.  Once again if 20 pops up, it's the persons choice.
However, in the previous step, if an even number is thrown, the person gets to pick up the "platform list".
1. Netflix
2. Crave
3. Prime
4. Miss A Turn
5. PVR/On Demand
6. Your Choice
If you roll a certain platform, you get to decide which show from said platform.
Now you may have a few questions…
One, how do you remember all those steps????  It's actually a fast process once you get used to it.
Two, WHY???? Because it cuts down on time spent deciding what to watch.  And it's just fun.
Three, How do you decide what shows make it into the mix.  I'm glad you brought that up.  OK I brought it up…
We actually have yet another list… The On Deck List.  This is a list of shows that both of us decide that we want to watch.
Currently that includes Unbelievable, Living with Yourself, Star Trek (All Series), Homecoming, Happy!, Ozark, Ragnarok, Treadstone, The Capture, Weeds, Space Force, & Snowpiercer. If you have any show suggestions, let me know! Although, there's a good chance we've watched it already.
Anyway, these on deck shows make it onto the master list once we have completed a series or current season.  How do we decided what show makes it onto the master list?  You guessed it, we roll.  Just think of it as a wrist strengthening workout.  Pair that with a wine glass to the mouth exercise and you're set.
It's important to note that some shows may never make it onto the master list, however we could still complete it due to Your Choice.  Your Choice covers ANY TV show on ANY list.
One more rule to note.  The binge option.  This is when a person decides to not roll on their turn, but instead choose to binge the show currently being watched.
This could go back and forth until someone decides it's time to invoke the next persons turn to roll.
It's a crazy complicated system that has evolved in the past few months… but I love it.
Up next, a snack list?  Naw, just give me all of em.
Ready to roll?!
-Damien Gnass