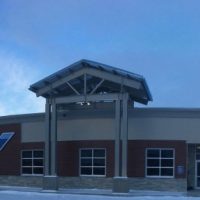 Candidates for the Peace River riding were in La Crete on Tuesday night discussing a number of issues with residents.
As part of the ongoing candidate forums taking place across the peace region, three of the five candidates for peace river were in attendance on Tuesday which included the NDP's Debbie Jabbour as well as the UCP's Dan Williams and the Freedom Conservative Party's Connie Russel.
On the subject of Abortions, both the UCP and FCP candidates stated they were pro-life while Debbie Jabbour stated she supports a woman's right to choose.
DEBBIE JABOUR (NDP): "This is a Woman's issue. It's an issue about a woman's control over her own body, and what she chooses to do, and no government should legislate that."
DAN WILLIAMS (UCP): "I know in this province there's a divide on the issue of Life. I myself am pro life, but I understand in our province today that it's a divisive issue. There needs to be a precedent or practical answer for how we can lovingly care for young mothers who are in difficult straits, and for how we can care for young babies as well. I hope that we can do things that our party has put forward, on having support for women who are victims of rape. There are a lot of other innovative things we can do to care for people who are in difficult spots."
CONNIE RUSSEL (FCP): "34 years ago I was an unwed mother at 17. I decided to choose life.. and I have Never regretted choosing life for my son, who is now living in Africa working as a missionary. I believe god has a plan for every child that's conceived and often, for whatever reasons, whether it be hardships or whatever, a lot of mothers find themselves with nobody to help. I think we need to create a society that's willing to help these girls, rather than sending them off to the abortion places to be able to get rid of the baby that isn't working for them. I am definitely pro life whether it's beyond born or elderly."
–Alex Rodgerson, Trending 55 News