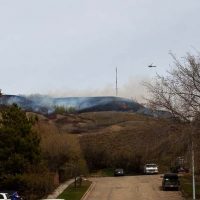 A fire on the East Hill outside Peace River had firefighters from Northern Sunrise County, the Town of Peace River, and Alberta Agriculture and Forestry scrambling this afternoon.
Around 1:45pm a call came in about a pickup truck on fire in the area of the 12 Foot Davis grave site.
Firefighters quickly responded.  However, by the time they arrived, the fire had spread to nearby grass in the hills.
Helicopters from Alberta Agriculture and Forestry sprang into action, bucketing the edge of the fire to keep it contained.
No structures are being threatened at this time.
The public is advised to avoid the area.
– Damien Gnass, Trending 55