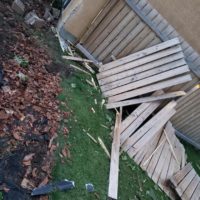 The Peace Regional RCMP says it has located the owner of the Corvette ZR1 that crashed into a home on 90 Street on Monday evening.
The RCMP did not identify the vehicle owner, and did not specify if the Corvette was stolen when the incident took place.
The Mounties continue to investigate.
---
The Peace Regional RCMP is looking for a person and a corvette.

According to the detachment, it was notified at 9:12 on Monday night of a collision involving a black/grey Corvette ZR1 on 90 Street in Peace River.

The Mounties say the vehicle was being driven erratically and it lost control, leaving the road, while taking down a fence and eventually crashing into a house.

The vehicle was then seen fleeing south on Highway 684.

The RCMP is asking the owner of the vehicle to come forward to give a report of the incident.

Anyone with information can call the Peace Region Detachment at 780-624-6677 or Crimestoppers.

– Kenny Trenton, Trending 55 Newsroom

Tags: